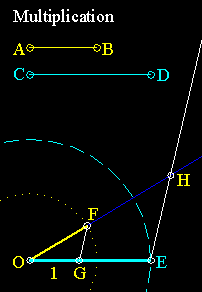 Multiplication
---
Given segments AB (yellow) and CD (cyan), find the product of the two.
Draw a line. Construct OG on that line, so that OG = 1.
On that same line, find OE, so that OE = CD.
Draw another line from point O. Draw OF on that line, so that OF = AB.
Draw a line through GF, and draw a line parallel to GF through point E, which will intersect OF at H.
OH is the product of OE and OF.