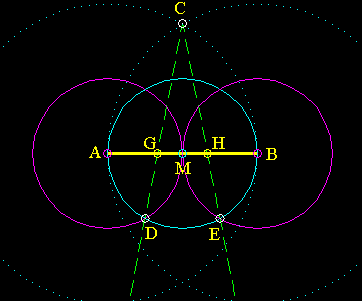 Line Trisection
---
We are given a line (AB), and we want to cut it into three equal pieces. To do this:
Find M the midpoint of AB.
Draw a circle at A and B (dotted), each with radius AB. They cross each other at C.
At points A and B, draw a circle (purple) crossing M.
At point M, draw a circle (cyan) crossing A. Circle M (cyan) intersects circles A and B (purple) at points D and E.
Draw a line through points CD and CE (green dashed).
CD and CE intersect AB at points G and H.
AG, GH, and HB are all 1/3 of AB.