Here's a very complicated construction, yet very accurate.
Draw circle O. Draw ABCDE, a pentagon inscribed in circle O.
Draw another circle at O, this time inside the pentagon (purple). To do this, find the midpoint of one of the sides of the pentagon and draw a circle crossing that point.
Draw OA. OA intersects the small circle (purple) at F.
Draw a circle at F (cyan) that crosses A. It crosses OA at H. Draw a circle at A (cyan) that crosses H. Circle A (cyan) crosses OA at G.
Draw a small circle at O (yellow) that crosses H. Inscribe an equilateral triangle, HIJ inside that circle (yellow).
Draw a line through points I and J.
Draw a circle at O that crosses point G. This circle crosses IJ at points K and L.
G,K,L are 3 points of the heptagon. Use them to find the rest!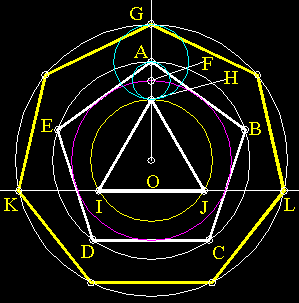 See Nexusjournal for details